The Blockchain Association of Uganda has refuted allegations made by Uganda's Minister of Finance alleging that the governance structure of Cryptocurrency can be prone to abuse and losses for members of the public.
In a statement, the Association rectified several assertions by Matia Kasaija, the Minister of Finance, Planning and Economic Development. While at a press conference in Kampala last week, Mr Kasaija warned the public against the use of Crypto assets because they are not legal tender and remain unregulated by the central bank.
BAU Response
The BAU, however, stated that Cryptocurrency has decentralised governance more robust than what is offered by the central bank, which is handled by humans. "Governance in cryptocurrency is enforced by mathematics and code," the statement insisted.
It means that unlike the case of traditional currencies, where the function of trust is vested in the central bank. Crypto assets, however, are governed by all parties involved in a transaction, which improves security and transparency of the process.
On whether cryptocurrencies are anonymous and therefore open to illegal practices like money laundering, BAU disputes this too. BAU maintains not only do all major cryptocurrencies collect high grade Know Your Customer information; no one could ever argue that a phone number is anonymous when registered to a person.
"Cryptocurrency transactions have an identity that represents the true identity just like a phone number, or national identity card represents a full name," read the state in part.
The statement also attempted to encourage the managers of financial systems in Uganda to look into the creation of its Crypto assets. It is an option that has already been taken by other traditionally conservative institutions like JPMorgan and the central banks of China and Sweden.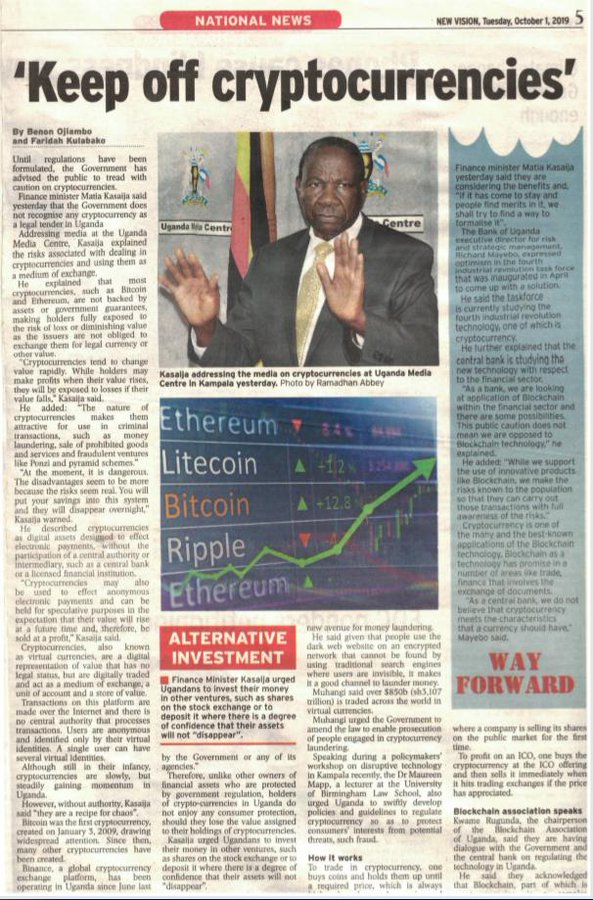 East Africa's Stance
Although no government in East African has taken the plunge, Rwanda stated in August that it is interested in creating its digital currency. In Kenya, a taskforce on Blockchain and artificial intelligence that was established by President Uhuru Kenyatta has also submitted a recommendation asking the central bank to issue digital currency.
Government officials in Uganda have, on the other hand, been making comments that can be construed to mean opposition to Cryptocurrency. Nevertheless, the country's central bank has disputed this.
"As a bank, we are looking at the application of Blockchain within the financial sector, and there are some possibilities," Richard Mayebo, Executive Director, Risk and Strategy at Bank of Uganda related.
He says the statements cautioning the public from government officials are meant to create awareness of the risks related to Blockchain technology transactions. But the East African country's Blockchain Association argues that risks are not exclusive to Cryptocurrencies, and governments do not and cannot protect holders of assets against the devaluation of the asset's value.
"If the value of gold fell today, Uganda government or any other government would not protect anyone from losing the value," another section of the statement by BAU registered.
Contradictory Trend
Ironically, Uganda is the only African country where the world's biggest Cryptocurrency exchange has opened shop. Binance in 2018 opened its first fiat to Cryptocurrency exchange in the East African nation.
Contradictory enough, the president of Uganda differs with the country's central bank governor's stance on Crypto. In May 2018, at a Blockchain Conference, President Yoweri Museveni called the latter's approach to Crypto dogmatic.
QT is working on getting a response to the Minister's comments from Binance officials and other industry players in Uganda. We will update our readers soon.
*Photo Credits: Watchdog Uganda, Coindance & New Vision